Status Instruments
Drew Jones Ltd are a Reseller for Status Instruments in Scotland.
The UK Manufactured Status Instruments range includes, Temperature Transmitters, Temperature Probes, Signal Conditioners, Trip Amplifiers, Panel Meters, Loop Isolators, Humidity Transmitters, Loop Powered Indicators, Pressure Transmitters, DIN Rail Power Supplies and Status Configuration Hardware.
Status Instruments products are UK manufactured, provide great value and fast deliveries.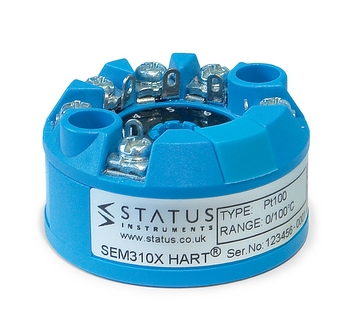 Most of the Transmitters, Signal Conditioners and Programmable Medacs are USB configurable. Download the free software & connect the mini cable to your USB port and the free download software will plug and play your device.
Configuration is then a matter of selecting the required parameters from drop down menus, the configuration can then be saved and then uploaded to additional devices when required.
You can download the Status Product Guide
Here
Telephone Your requirements to 07542 373959 or Email
Drew Jones Ltd
.