HOME >> Temperature Transmitters >> In Head
Status SEM203P Temperature Transmitter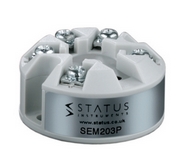 enlarge image
Status SEM203P

SUITABLE FOR PT100 SENSORS
UNIQUE PUSH BUTTON CONFIGURATION WITHOUT PC
PUSH BUTTON SENSOR MATCHING
(4 to 20) mA OUTPUT
HIGH STABILITY

PROGRAMMABLE BURNOUT
The SEM203/P is a low cost configurable in-head transmitter that accepts PT100 temperature sensors and converts sensor output over a configured range to a standard industrial (4 to 20) mA transmission signal.

A simple push button operation allows the user to not only select the desired range and burnout direction but also perform user trim at both (4 and 20) mA points.

The SEM203 in head transmitter incorporates the latest digital technology to ensure accurate drift free performance.

If required the desired range can be specified at the time of order, removing the need for user configuration. This service is provided free of charge.

If the range is not specified then the transmitter will be shipped with the default range of (0 to 100) °C set.





[

click here to view file attachment]