HOME >> Temperature Transmitters >> In Head
Status TTR200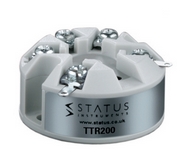 enlarge image
Status TTR200 TTR200X
INPUT: MULTI TYPE RTD, SLIDE WIRE, RESISTANCE INPUTS
ATEX AND IECEx APPROVED VERSION
22 SEGMENT USER LINEARISATION FOR INPUT
SENSOR OFFSET AND OUTPUT ALIGNMENT
ADJUSTABLE INPUT FILTER

PROGRAMMABLE BURNOUT
The TTR200 'smart" transmitter is designed for use with RTD or Slidewire sensors. The flexible design allows the use of any resistive


sensor within the range of (10 to 10500) *. Pt100, 500, 1000, Ni or Cu sensors as well as slide wire sensors up to 100 K* can be


accommodated. Other sensor characteristics or your own 22 point linearisation characteristic (for slidewire or linear resistance) can


be downloaded into the product enabling you to adapt it exactly to your application. The TTR220X is approved to ATEX and IECEx


standards allowing for use in hazardous area applications.


PC configuration allows the user to select Sensor type, Range, Filter, Tag, Units and error signal without requiring calibration


equipment. Additionally, the user may read live process data when connected to the PC, this allows for sensor offset, and output


alignment calibration, where the user can enter values to match the actual process and therefore reducing system errors.


If required, the desired range can be specified at the time of order, removing the need for user configuration. If the range is not

specified then the transmitter will be shipped with the default range of Pt100 (0 to 100) °C, burnout high and filter off.




[

click here to view file attachment]